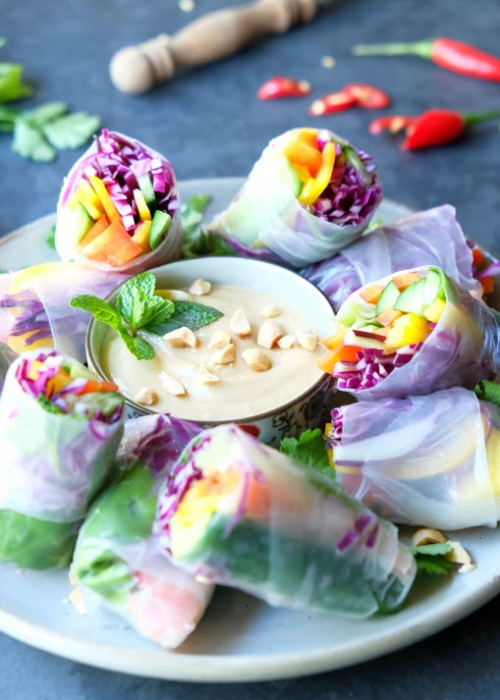 Rainbow Rolls with Peanut Satay Sauce
INGREDIENTS
Serves 2
6 rice papers
½ red capsicum, cored and deseeded, sliced finely
½ yellow capsicum, cored and deseeded, sliced finely
1 Lebanese cucumber, sliced finely lengthways
2 spring onions, trimmed to size and sliced in quarters
¼ small red cabbage, sliced finely
Coriander and mint leaves to taste
Sauce
2 cups NuVitality Roasted Peanuts
½ cup coconut milk
½ cup water
1 tbs tamari
½ tsp chili powder
½ small brown onion, diced finely
DIRECTIONS
Place peanuts into a high speed blender and blend for 90-120 seconds, tamping the nuts down to make peanut butter. This can be done in a food processor but will take longer.
Then add 1/3 cup of the peanut butter (you can save the leftover peanut butter for next time) to a small saucepan along with all other sauce ingredients. Heat on low for 10 minutes, stirring occasionally until the sauce thickens then set aside.
For rice paper rolls, place one rice paper in a bowl of warm water at a time, for 30 seconds until silky and soft.
Place wet rice paper on a plate and load up with the sliced vegetables and herbs then carefully roll up, folding the edges inwards as you go.
Repeat with all rice papers then slice the rolls in half and serve with peanut satay sauce.