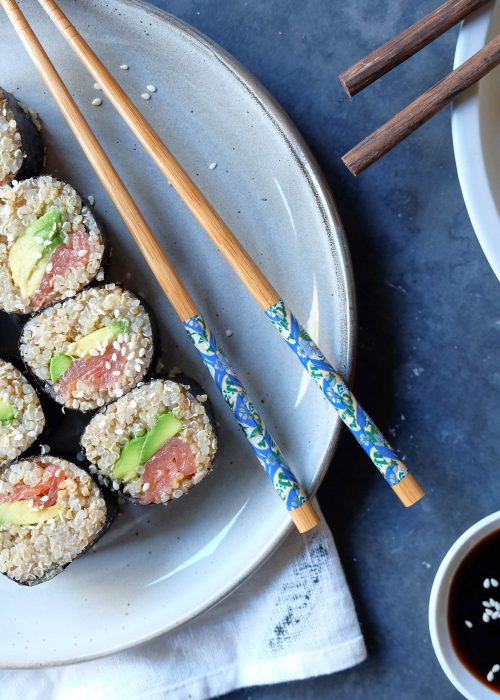 Quinoa Sushi
INGREDIENTS
3 cups NuVitality Quinoa, cooked
150g smoked salmon, sliced
1 large avocado, sliced
4 nori sheets (seaweed papers)
4 tbs NuVitality Sesame Seeds
Tamari and pickled ginger to serve
Sushi rolling bamboo mat (available at supermarkets)
A little dish of water (for sealing the nori sheet)
DIRECTIONS
Place one sheet of nori onto the bamboo mat then place ¾ cup of quinoa onto the nori sheet
Press the quinoa down firmly so that it is evenly spread across the first half of the nori sheet
Add 2-3 avocado slices and enough salmon to fill the length of the sushi roll at the top of the sushi roll then sprinkle 1 tbs of sesame seeds over the top
Using the bamboo mat, carefully roll the sushi up almost entirely. Before reaching the end of the nori sheet, dab some water along the end of the nori sheet then proceed in rolling the sushi up, pressing down firmly to seal it.
Repeat the process until you have four sushi rolls. Slice them in half and enjoy with tamari and ginger.