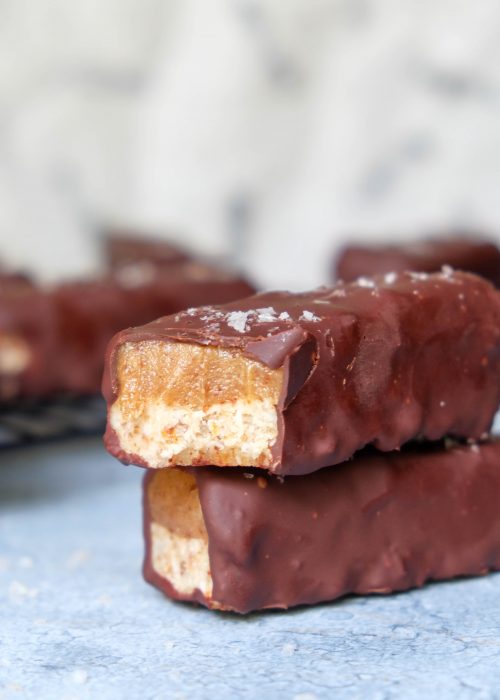 Raw Tahini Caramel Slice
INGREDIENTS
Base
240g NuVitality Almond Meal
10 medjool dates, pitted
50g desiccated coconut
100g coconut oil, melted
Filling
15 medjool dates, pitted
2/3 cup tahini
1 ½ tbs water
Pinch of salt
2 tbs maple syrup
Coating
250g good quality natural dark chocolate, melted
Flaked sea salt
DIRECTIONS
Place all base ingredients into a food processer and pulse until in fine crumbs
Press base mixture into a baking paper lined 20cm x 20cm brownie pan very firmly, place into the freezer
Then place all filling ingredients into the food processor and process until smooth and resembling caramel
Take the brownie pan from the freezer and top it with the filling mixture, spreading it evenly to the edges
Place back into the freezer for an hour
Melt chocolate in a metal bowl over a pot of boiling water until smooth, remove from heat and cool slightly
While chocolate is cooling, remove slice from freezer and turn out onto a chopping board, slice into equal portion
Then place a cooling rack over a sheet of baking paper
Carefully place each slice into the chocolate, turning over using two forks until each slice is coated. Place the chocolate coated slices onto the cooling rack and let the excess chocolate drip onto the baking sheet underneath. Sprinkle with a little flaked salt and place into the fridge to set for 30 minutes.